Light of Hope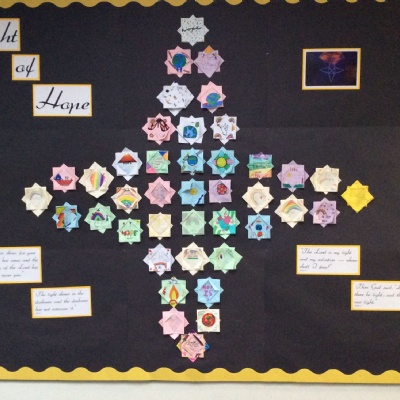 Recently an art installation...
Recently an art installation has been installed at Winchester Cathedral. The unique illuminated 'Light of Hope' art installation, a 5-metre steel star shaped sculpture, with neon changing lights, has been suspended above Winchester Cathedral's majestic nave. The artwork produced by Peter Walker will be on display in the cathedral until the 1st January 2023. Follow the link below for full details:
https://www.winchester-cathedral.org.uk/event/light-of-hope-installation/
As a school, we are taking part in a project related to this piece of work. The first stage of this has involved all the children making origami tea light holders, decorated on the theme of Hope. A selection of these have formed our large display in school and this has been shared with the artist.
See the photographs below.
The next stage of this project involves a joint art installation between the school and St Mary's Church - look out for more details