Physical Education
This is a page with a lot of different suggestions for staying active during this current time. New ideas will be added from time to time so stay tuned.
---
May Update: Hampshire School Games Mark May
As sports competitions are put on hold, School Games Organisers (SGOs) from across Hampshire and the Isle of Wight are finding new ways to keep young people active. Last week they launched their #HSGDailyChallenge to encourage children to stay active and compete to achieve their personal bests.
Each week, challenges from two sports will be released and will provide schools with virtual competition in a range of sports that have been postponed this year. Still based on personal best, the challenges will enable schools to compete against each other to identify winning schools across the different challenges. Schools will be rewarded once lock-down is over with a trophy for top primary.
Twitter: https://twitter.com/HampshireSGO
Facebook: https://www.facebook.com/HampshireSGO/
Website: https://www.energiseme.org
For more information and the youtube video: https://youtu.be/wsrP_sYhQD0
Challenges:
When you have completed an activity, email a your teacher or a.whincup@st-marys-jun.hants.sch.uk so we can add it to our score sheet. Check back here to find out well St Mary's has done and for your next set of challenges.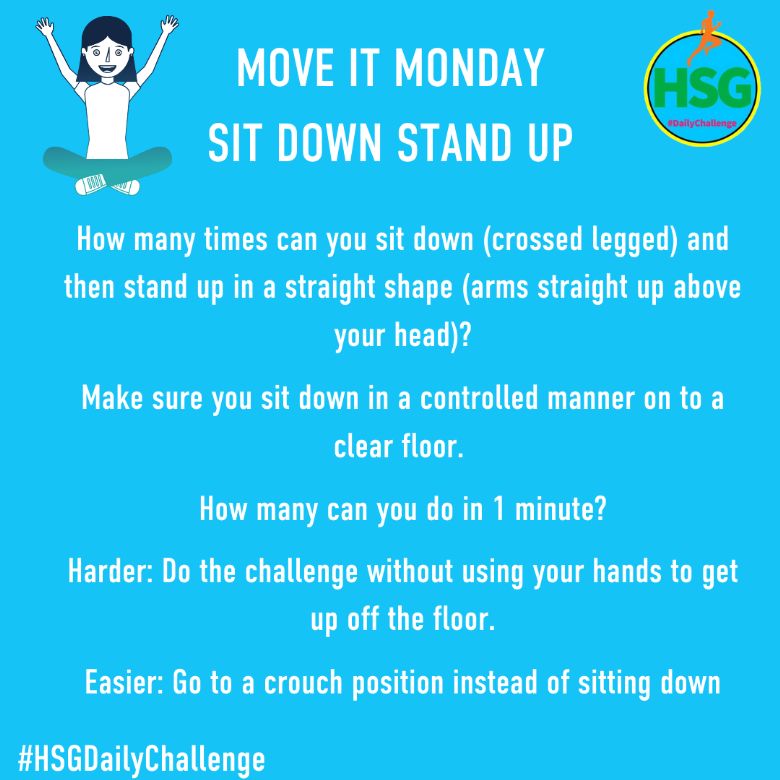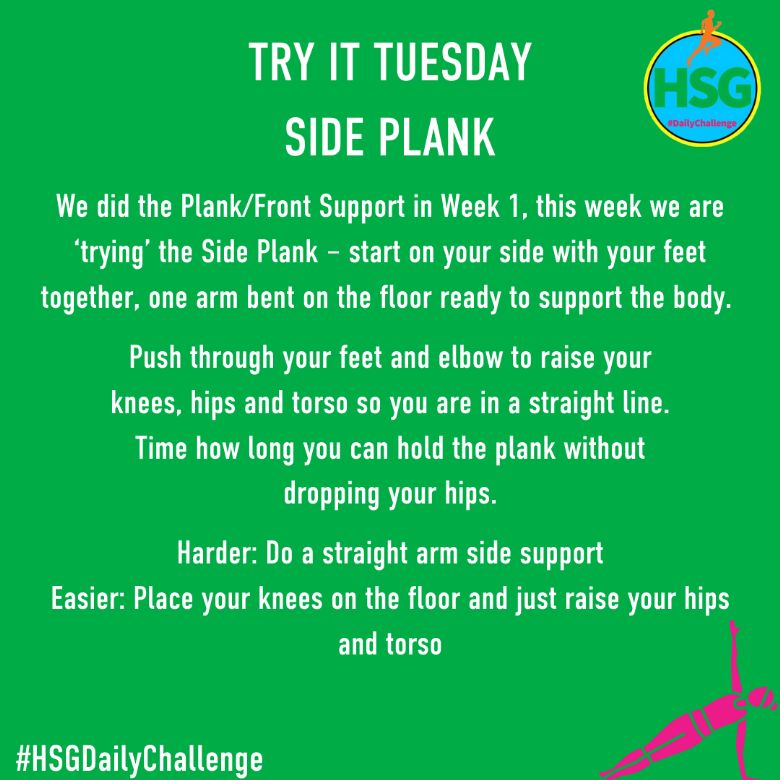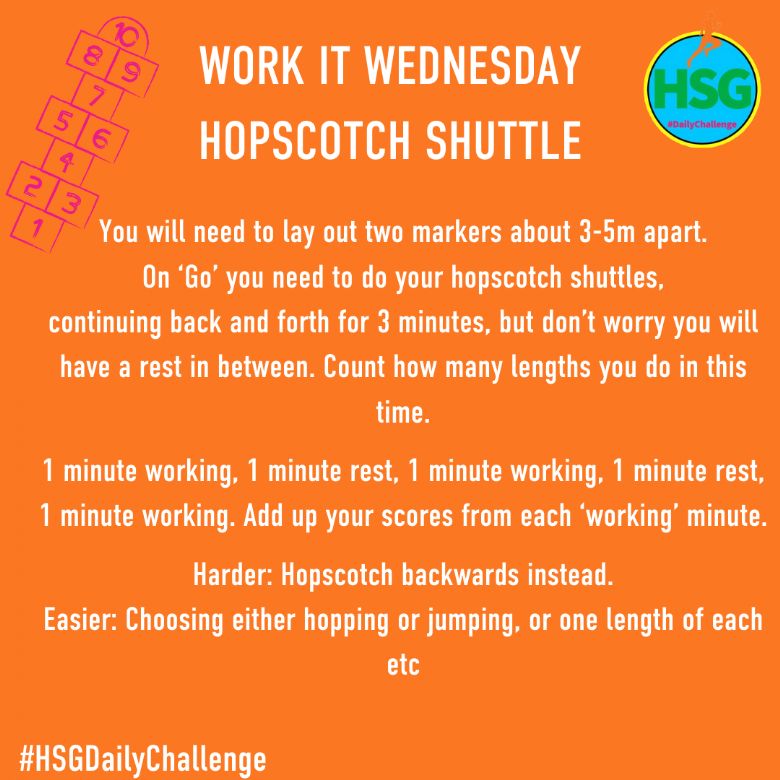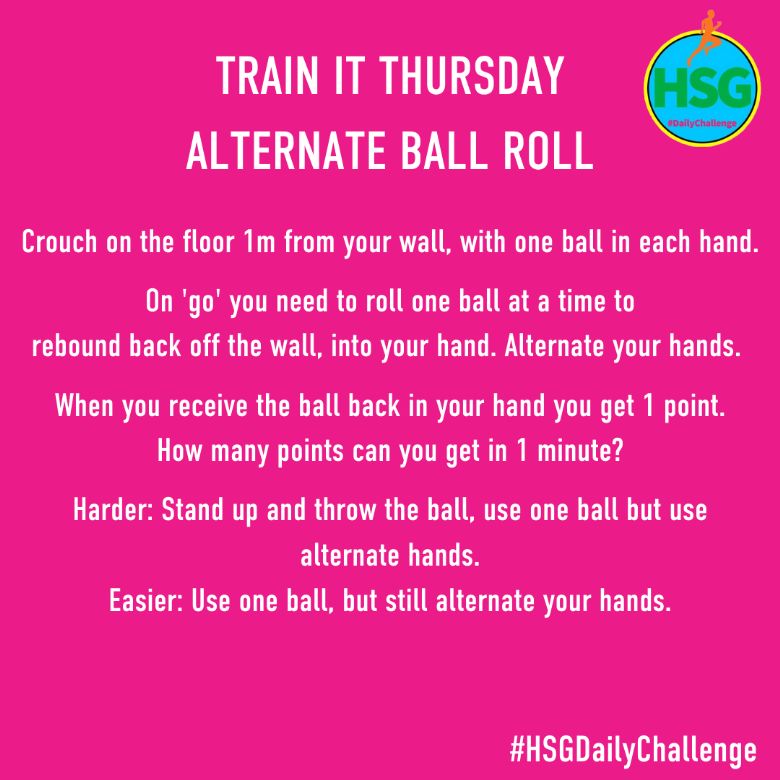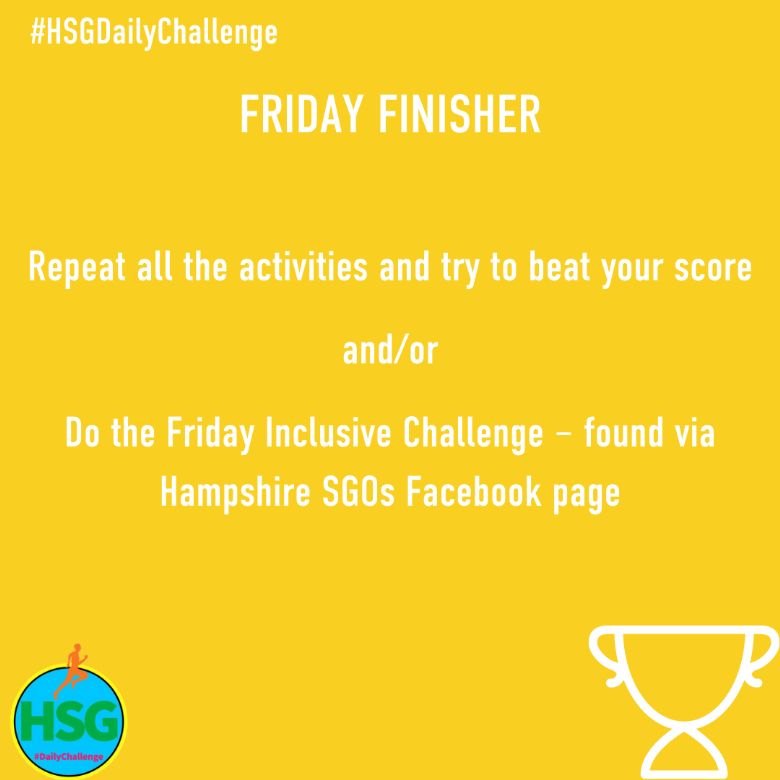 Check out the Week 10 Primary Challenge File and instructions below.
---
Physical Activities ideas:
GoNoddle - A website that includes a lot of guided physical activities, from guided dances to mindfulness. Very fun if everyone gets involved, try NTV:Noodle Television for dancing or flow for mindfulness.
Kidsbop dance along – Guided dancing in a variety of styles and length.
https://www.youtube.com/channel/UCKE0Xnj818IDaHvIcRiq0Bg
Jo Wicks PE Lessons – Join Jo as he takes a 30 minute workouts that can be done in the front room.
https://www.youtube.com/user/thebodycoach1
Cosmic Kids Yoga – Child friendly yoga for those that wish for a calmer active time.
https://www.youtube.com/user/CosmicKidsYoga
Change4life – a set of indoor activities and 10 minute Disney shakeup games.
https://www.nhs.uk/change4life/activities
real PE – A series of short activities for children to take part in, with videos explaining them. They have minimal equipment requirements, and many not have any. These work in different fundamental movements. Our log on is below:
Parent email: parent@stmaryscej-1.com
Password: stmaryscej
https://home.jasmineactive.com/
Resources:
England sports council has create a whole page of resources that can be tapped into for ideas or more specialised activities. These are not just for children too.
https://www.sportengland.org/stayinworkout#get_active_at_home