Ascension Eucharist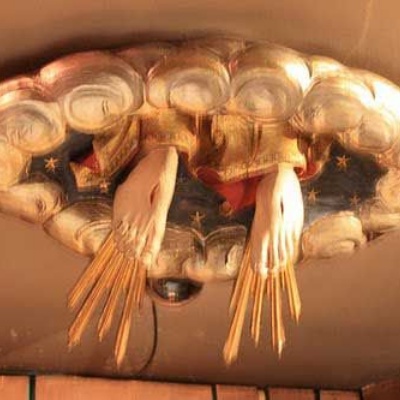 As the church year moved on to Ascension this week, this was the focus for both our Wednesday act of worship for Year 3 and 4 and our Eucharist for Year 5 and Year 6. As usual the children were amazingly well behaved and the singing was beautiful. Father Alec used a photo of the sculpture that is attached to the Walsingham Ascension Chapel. This depicts Jesus's feet disappearing into the clouds and Father Alec mentioned that this was his favourite depiction of the Ascension. The theme for his sermon was around the uniqueness of human beings and children were asked about what makes a human being - quite a challenging question. We were all then entertained by Father Alec's drawing skills as he recorded the children's responses.
Children from Year 6 read the reading from Acts and composed prayers on the theme - see below.
Dear God,
Please help us to be thankful for those who love us and protect us. Guide us so that we may love our neighbours. Let us not be drawn into hate by the hateful things that others may do to us. Support us to appreciate our unique nature but to also recognise those things that are common to all human beings.
We ask this in your name.
Amen.
Lord,
Protect us and keep us from harm. Help us to understand the fragile nature of life and how we must respect others so that every person can fulfil their potential. Show us how to be kind and to break down fear in the world.
We ask this in your name.
Amen.
Father,
We know that you hold us in your loving hands. Help us to always keep you in our hearts. Teach us to use our body and mind to spread kindness and comfort through the world. Let our feet tread the path of honesty and lead us to our home in heaven.
We ask this in your name.
Amen.