Musical Winners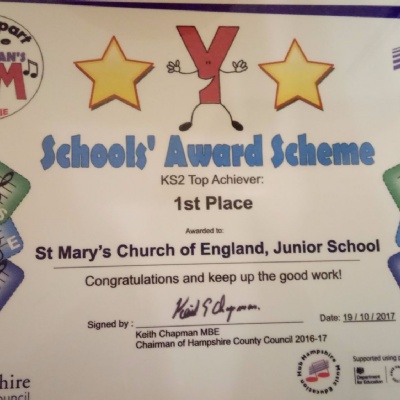 CYOM Award for Top KS2 School awarded to St Mary's
On Thursday 19th October, Ms Welch and Mrs Malone attended an award ceremony at the Thornden Hall. Celebrating the Chairmans' Year of Music (CYOM), St Mary's received 4 awards for a a variety of musical achievements. One was specifically for the School Band and they were given prizes of sheet music to play.
The culmination of the evening was the winners awards. St Mary's was awarded the top KS2 School for Music within the CYOM and Ms Welch was presented an award by Cllr Keith Chapman from Hampshire County Council to celebrate this huge achievement.
If you'd like to see the award, it is by the reception area at school and the hundreds of certificates are currently being displayed in the music room.
Well done St Mary's - a place where there is always music!