Flower Festival Singing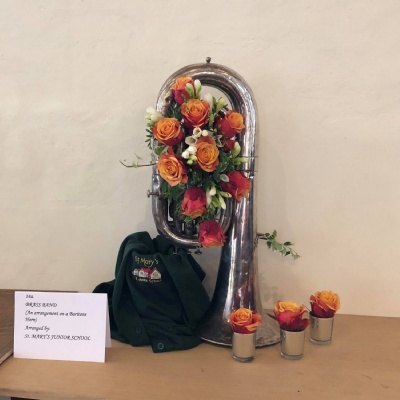 Beautiful celebration of music both in flowers and singing.
Children who sing in choir from years 3, 4 and 5 entertained visitors to the St Mary's Flower Festival this afternoon (7th July) with a range of songs in celebration of music and singing linking in with the flower festival theme this year.
The programme was:
Hey Mr Miller - in celebration of the jazz era and it's links with modern music
It's a Long Way to Tipperary - in celebration of the rich musical history we have in the UK
Gospel Medley - a three part medley of gospel songs to mark the importance of music and song stirring the Human spirit
How Far I'll Go (from Moana) - celebrates the link between film and music
Ain't No Mountain High Enough - a two part song celebrating how music can be used to communicate our feelings and thoughts
Father God I wonder - with a beautiful solo from Poppy, this praise and worship song talks of singing God's praises.
With thanks to Mrs Chittey for playing the piano for the choir and Mrs Cosgrove for the beautiful flower arrangement.