Bee Kind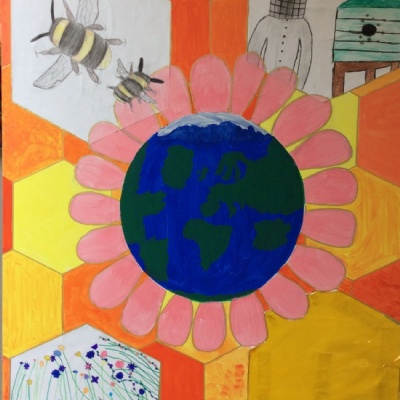 Bee inspired canvas on its way to Winchester Cathedral...
The theme of this year's Leavers' Service at Winchester Cathedral is Stewardship and year 6 have been considering our responsibilities for looking after the planet that we live on. Children were asked to create a design for a canvas based around the importance of bees and how wee need to look after them as numbers are currently decreasing. These ideas were then incorporated into a canvas to put on display at the cathedral with all of those created by the other church schools in the diocese. Our canvas was inspired by the work of local beekeepers and the colony under their care, our artwork brings together ideas of stewardship, community and protecting the environment. Moreover, we aim to make explicit the inter-relationship between nature and the health of all mankind. This includes physical health of course but also our mental health since an understanding and appreciation of the work of the humble bee helps us to engage with the notion of working positively for a common goal greater than that of just the individual. It reinforces the power of collective contribution and links to our school values, especially perseverance and showing love through One Family.
The canvas will remain on display at the cathedral for the next couple of weeks and then it is hoped that parishes axcross the diocese will display some or all of them to a wider audience.