Prestigious award for an ex-pupil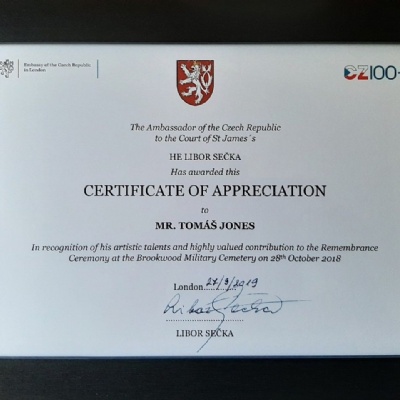 It was with great pride that the school heard recently about an honorary award given to one of our ex-pupils for work that he composed whilst he was at St. Mary's. Tomas, who is now in Year 7 at secondary school, was invited to a reception at the embassy of the Czech Republic and presented with a 'certificate of appreciation' by the Czech ambassador. It was given in recognition of his artistic talents and his 'highly valued contribution to the Remembrance Ceremony at the Brookwood Military Cemetery on 28th October 2018'.
Last year, during Year 6, Tomas had written a beautiful and moving historical poem about the creation of the Czech Republic as Tomas has Czech family heritage. The poem, called 'The Creation', was composed during a series of class lessons regarding peace and hope. Tomas's mum saw the poem and sent it to the Czech Embassy to demonstrate the obvious pride Tomas feels for his connections with the Czech Republic and Britain.
We are very proud of Tomas's achievement and hope he will continue to write such wonderful poetry.