Boris returns to St Mary's for the 2nd year!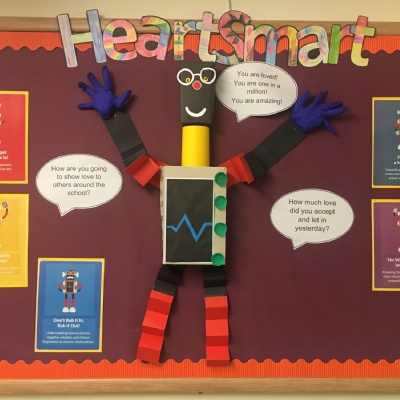 Boris has landed at St Mary's for the new academic year and is teaching the children all about being HeartSmart.
This half term, the children have been focussing on the first principle of our HeartSmart learning - 'Don't Forget to Let Love In!' Within this part of Heartsmart, the children learn how to love and value themselves well.
You're important, you matter, you're one in a million and above all you're loved. These are messages that the children have been learning to embed in their minds and others as we all need to hear, believe and remember – because sometimes we forget. The healthier our internal dialogue, the greater our sense of worth which is the cornerstone of character and resilience. How kind are the thoughts we listen to? How patient are we with ourselves? How often do we find ourselves listening to the Scrapman?
Don't Forget To Let Love in is about learning the ability to receive love into our hearts and give love back to others. If we cannot learn to love ourselves then we may find it hard to love others.