Year 6 Winchester Cathedral Leaver's Service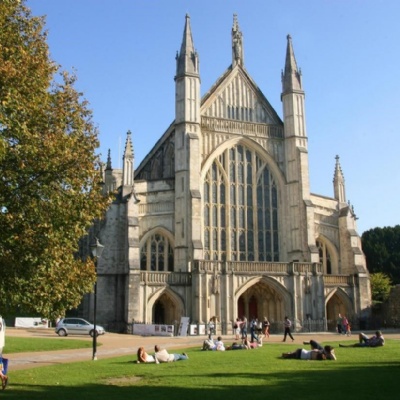 On Thursday 16th June, Year Six pupils and teachers took part in the annual Leavers' Service at Winchester Cathedral. This important event was attended by all those children from Church of England schools within the Winchester diocese who will be moving to secondary school in September.
The children spent part of their time looking around the cathedral and marvelling at the architecture, stained glass and many artefacts of that magnificent building. This generated many interesting questions and observations from the children about the history and daily life of this sacred space.
In addition, the children took an enthusiastic part in the service conducted by the Bishop of Basingstoke. The numerous hymns were sung with gusto and our pupils listened attentively to the presentations by several schools about how we can all flourish by spreading the word and practice of Jesus Christ in our lives at school and in our community. Along with all the other schools, St. Mary's contributed by making recycled fabric flowers for a large banner that will be displayed in the cathedral as a reminder of the service and this year's flourishing project.