Terrific Table Tennis!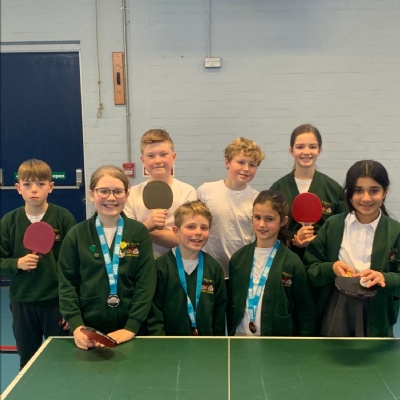 On Tuesday 24th January ...
... the Basingstoke U11 individual table tennis competition took place at Aldworth school with 4 boys and 4 girls representing St Mary's. This year it was great to see a full competition of 16 boys and 16 girls taking part which made for a very busy and exciting morning! After many hard fought matches, with the majority of our children finishing in the top half, we ended up with 3 St Mary's pupils in the semi finals, which is a fantastic achievement as the standard was exceptionally high. Huge congratulations to Rudi and Sophie who won bronze medals and Isabella who won a silver medal and qualification to the County Final in Southampton on 1st February. It was an absolute pleasure to spend time with our children who were so enthusiastic, sporting, fun and supportive of each other. A special mention must also go to Cormac who won the plate competition and Sophie who is only a Year 4 and a very exciting talent for the future! Congratulations to all our 8 players – Rudi, Sam, Cormac, Aidan, Harleen, Sophie, Stela & Isabella. We would like to wish Isabella the best of luck for the County Final next week.