Music Festival Performance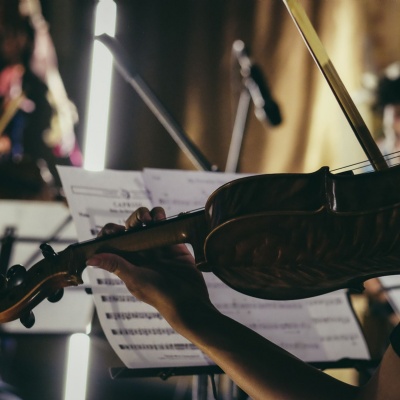 Music Festival Performance
One hundred children from St Mary's performed at the annual Basingstoke Music and Arts Festival on Saturday 4th March at Queen Mary's College. Although this is a competition, we enter the festival because this is such a great opportunity for the children to perform on stage to an audience and for them to share with their families what they have been doing in music clubs. Saying that, we came home with 2 cups and a trophy!
The morning started early with the school orchestra playing "Blow the Man Down". In the middle of the piece, it unravelled! This hadn't ever happened before but amazingly the children listened to each other and kept going, which for some of our members meant missing a couple of bars out! This showed such immensely good listening and the piece ended smoothly and securely. That is true musicianship and what live music is all about. Their second piece was the theme to "Wallace and Gromit". This was quite a complicated piece with lots of small solos, performed with confidence and enthusiasm. Congratulations Orchestra!
The string orchestra followed and they blew the audience away with their utterly spellbinding performance. With over 20 violinists plus viola players and cellists from years 4 to 6, the quality of the performance was incredibly high. Mrs Kershaw, our upper strings teacher worked the children really hard and the effort that she and the children put in was shown out in the quality of their performance. It was certainly one of the highlights of the day.
The Ukulele Club then performed, with members of years 5 and 6 showing such joy as well as skill. They sang and played 3 favourite songs and demonstrated their knowledge of chords as well as different strumming patterns. Well done ukulele club!
At this point in the morning, we managed to grid lock part of Basingstoke with all of the school choirs coming in to QMC! Thankfully, our junior choir members managed to get to the festival to perform to an enormous audience.
This year, we decided to send our junior choir (years 3 and 4) to the festival as our older choir had a concert in the evening. Despite quite a few understandable nervous wobbles, they all managed to get on stage and perform so incredibly well. Their first song was "When I grow up" from Matilda. This song had a beautiful section in 2 parts at the end with quite a high note which just floated out above the melody. They then went on to sing "Engine, Engine" which is in 4 different parts, so quite tricky for a younger choir. They really sang this with enthusiasm and confidence. Well done Junior Choir - you totally smashed it!
After lunch, the brass band were the last of our groups to perform. This group impressed the audience with such accurate ensemble playing. Mr Llewellyn worked really hard for weeks with the children to get them to such a high standard and this really showed in their performance at the festival. It was wonderful to hear them throughout the school corridors on a Tuesday morning and we knew they were going to be great!
Thank you to the many St Mary's families who supported our school music clubs. Congratulations to all the children and thank you to the many school staff who came to chaperone the children. Mr Llewellyn and Mrs Kershaw, our HMS staff gave up their Saturday for us and we thank them so much for all the work they have put into two great performances. They both had musical engagements that day following the festival, so we are grateful for giving our children such fantastic experiences. One more thank you to Mrs Chittey who accompanied the junior choir and string orchestra and to Mrs Franklin and Mrs Morris for all their help with the school orchestra.