Basingstoke and Deane Mayor visits the School Council
On Monday 6th March we hosted the Mayor and Mayoress as they visited the school council.
Councillor Paul Miller and his wife, Sandra, both came to talk democracy with the school's democratically elected school council.
It was a very engaging afternoon as we met and learnt how democracy works from the Parish council all the way up to the houses of Parliament.
The children were surprised to hear how the role of parish councillor and Borough councillor are both done by people who volunteer their time and that the roles are not paid positions.
As our time went on, we had a mini-debate about whether we should have a school uniform or not and learnt about how to compromise when we can't agree and that this is fairness at work. The children also discovered how the nature of a compromise means we don't end up with extreme ideas but find ways to work together for the best outcome of those we serve as councillors.
Once we went into question time, many questions were about the jewellery that the Mayor and Mayoress wear and what the insignia represent.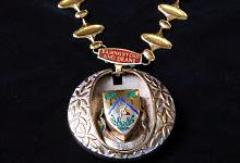 We finished our time with a photograph or two at the front of school and had some fun together whilst so doing. Thank you, Mr Mayor & Mayoress, so much for coming today.