Christian Values
St Mary's is a Church of England Voluntary Aided Junior School and has close connections with the Diocese of Winchester and the local parish church of St. Mary's that serves Old Basing and Lychpit.
Our core Christian Value is Love. In our school this is described in terms of being One Family, where each member is encouraged to love and respect themselves, others, God and his world.
Love is what holds everything together in perfect unity.
Colossians 3:14
Love your neighbour as yourself.
Matthew 22:38
Love is taught, not as being a romantic love, but as a deeply respectful and caring love, not just of each other but ourselves too. This idea is considered and taught through RSHE lessons using the new HeartSmart materials but also permeates through the whole culture and community of the school through all curriculum areas, collective worships and at break and lunch times. One Family at St. Mary's stretches out from our physical school environment out across our local community, national community and Global family, seeking to reach out and make a difference in the world. This is taught through:
Love is patient, love is kind...

1Corinthians 13:4-7
At the centre of the teaching of the school is that we are all created in the image of God; that we are all individuals and that we are treated equally.
So God created humans in his own image. He created them to be like himself.
Genesis 1: 27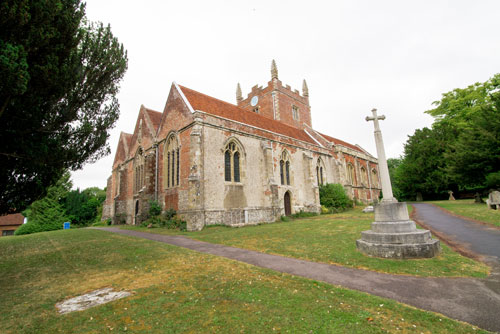 The value of 'Love' underpins everything we do in school. We believe that through a focus on Love by working together as part of a strong and supportive family, we can all achieve more – socially, emotionally and academically. The school community has identified several other values to explore in more detail, through acts of worship and our curriculum, to support the understanding and fulfilment of our core value:
Hope – Christians hope for the future has its guarantee in the resurrection of Jesus. Christian hope means trusting in the loving purposes of God: trusting that the foundations of the world are good because they spring from God. Hope in each other and ourselves, through the love of God and his example before us; help us to strive for the best we can possibly be; both now and in the future.
Compassion – This value has its roots in the idea of 'suffering with' someone, putting yourself in someone else's shoes and experiencing what they experience. This leads to a desire to act, to do something. It is not patronizing. It is not about 'doing good' from a position of strength or 'remembering those less fortunate than ourselves'. Compassion requires an act of imagination and humility to share in the lives of others. We wish to encourage our pupils to demonstrate compassion through work with our link charity, the Mityana Charity, and through responding to topical issues around the world. See http://mityanacharity.org/ for more details.
Curiosity – Where do we come from? Why are we here? Questions about identify and self, about each individual discovering their strengths and qualities, is as much a part of our learning as the skills that they need too. We encourage our children to ask questions, develop respect and interest in new ideas and discover more about God's world around them.
Perseverance – At it roots, perseverance is recognition that life is sometimes difficult and painful, and it is important to not give up in the face of adversity. It is important to note that perseverance is only possible where there is hope and support and through the enduring nature of God's steadfast love. We encourage children to make mistakes, to push themselves to try difficult ideas with the encouragement and love to realise that anything is possible.
Please also visit St. Mary's Parish Church website