History
At St Mary's, we aim to deliver a rich and engaging experience for all children within our History curriculum.
The intent of our History curriculum is to provide children with not only an understanding of the key events which have shaped Britain's past, but also with the skills and knowledge to make sense of where they have come from, to recognise why their world is as it is today and to use the lessons of history to take responsibility for their future.
The teaching of History at St. Mary's provides our children with life-long skills. These include perceptiveness, analytical thinking, assessment of evidence, interpretation and evaluation of ideas, formulating personal opinions and communicating effectively.
In addition, the accumulation of historical knowledge and the practise of the skills of an historian gives our pupils the opportunity to have a broader appreciation of our school values. An understanding of history provides many real-life examples of hope, perseverance, curiosity, compassion, respect and responsibility.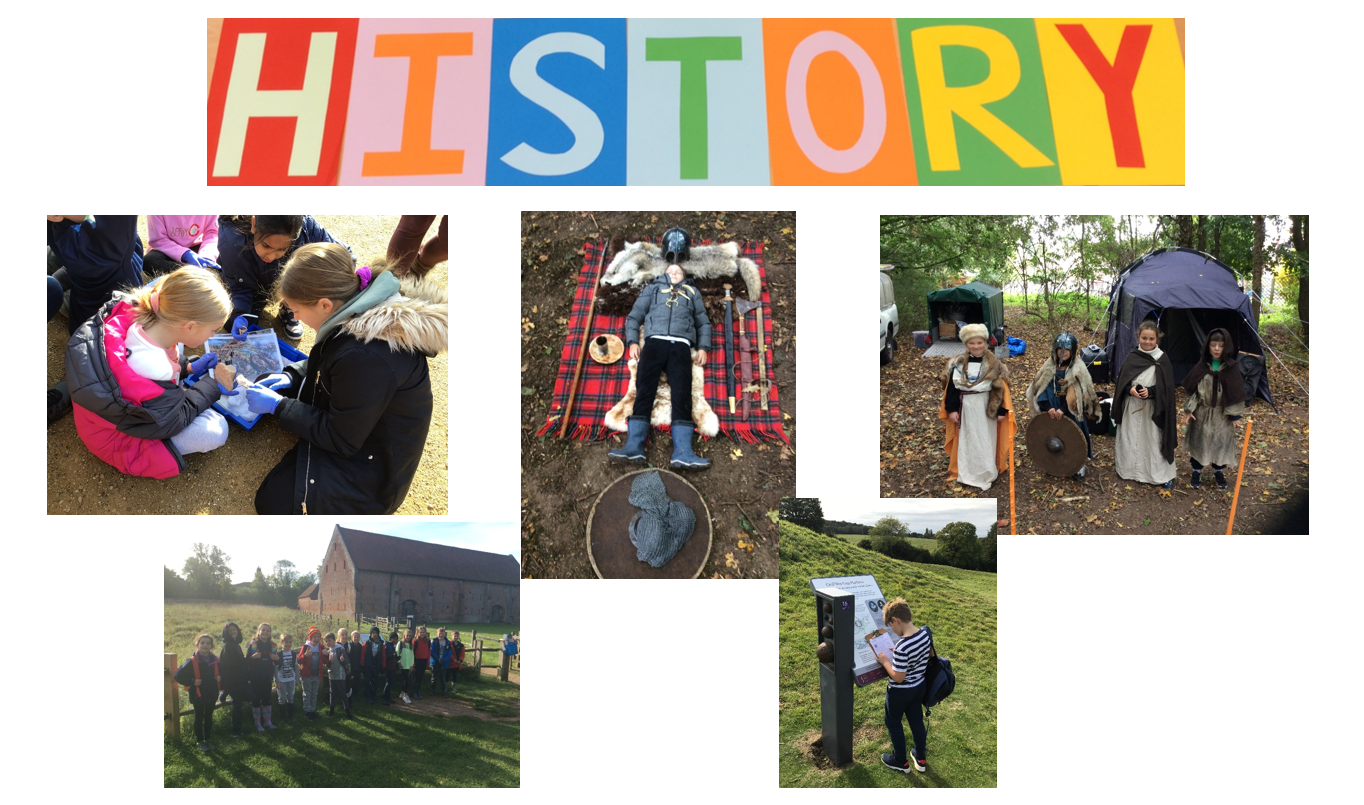 How History is taught
History is taught thematically with two terms of study in each year group. British history is taught chronologically to enable children to make connections with earlier time periods, and units of wider world history then develop their understanding of the influence of the wider world on our own country as well as an appreciation of the different events at different times around the world.
Each themed unit develops children's understanding of the six key strands of historical understanding (chronology, characteristics features, cause and effect, similarities to other time periods, significance of events and historical interpretation).
The skills of history that we teach require the children to be enquiring and to think deeply about the topics in each year group. In addition, the progression of skills across year groups is challenging and extends children's understanding as they move through the school.
Topic themes reflect the following demands of the National Curriculum (2014):
The history of Britain within a chronological narrative and the influence of Britain on, and from the wider world.
Knowledge and understand of significant aspects of the history of the wider world – i.e. the great civilisations/empires; European and non-European
Development of the skills of an historian.
Construction of interpretations of the past.
Understanding of the connections between local, regional, national and international history.
A range of histories for study – i.e. cultural, economic, military, political, religious and social.
Implementation is delivered through a range of methods:
Enrichment is a key part of History at St Mary's. Several visits or visitors to our school site bring History alive for children with demonstrations of key historical skills and the opportunity to 'act in role' as someone from the past.
Each unit of work is planned to allow children to explore and understand the six key strands of chronology, characteristics features, cause and effect, similarities to other time periods, significance of events and historical interpretation.
High quality teaching allows children to complete varied and interesting tasks to explore and demonstrate their understanding.
Each topic has an artefact box with objects to stimulate questioning and discussion and enable children to develop their visual and conceptual understanding.
Each topic has a wide range of non-fiction texts available through artefact boxes and the school library to support pupils' own research and wider reading.
History lessons explore key substantive concept vocabulary and terms of the period under study through the provision of vocabulary mats and exploration of key terms such as 'empire, civilisation, monarchy'.
Units of work compare to other time periods in history to develop understanding of chronology and significance.
Beyond lesson output in books, opportunities for children to demonstrate their knowledge, skills and enthusiasm in history are provided via sharing assemblies, school displays and role play.