Recorder Clubs
Events this term
Wednesdays groups (Trebles and Advanced group) - Carol Service - Wed 19th Dec
The Advanced and Trebles Recorder groups will be performing alongside the Senior Choir at the annual School Carol Service on Wednesday 19th December. The Carol Service starts at 6pm and it is traditional for families to walk from school to the church by candlelight. As this group is reasonably small and all members play important parts, please make sure your child is able to come as we really do need them!
General Information
All children learn the recorder in year 3 at St Mary's. After this, they can choose to join the school recorder club. This is a voluntary lunchtime club and is free of charge.
Pupils learn descant, treble, sopranino, tenor and sometimes the bass recorder.
Pupils who have learnt the recorder at Infant School may join in year 3.
Recorder Clubs
Year 3 (continuing from Yr 2) - Tuesdays 1pm
Year 4 Beginners - Thursdays 1pm
More advanced players - Wednesdays 12:40
Treble Beginners - Wednesdays 1pm
Recorders are provided but should you wish to purchase one, please buy an Aulos Descant Recorder - click here for details (you can get them from any music shop or online)
A fun website we use at school is Recorder Master - Joy Tunes
Beginner Book used - The Red Hot Recorder Tutor Book 1- Click here
Treble Beginner Book uses - Red Hot treble Recorder Book - Click here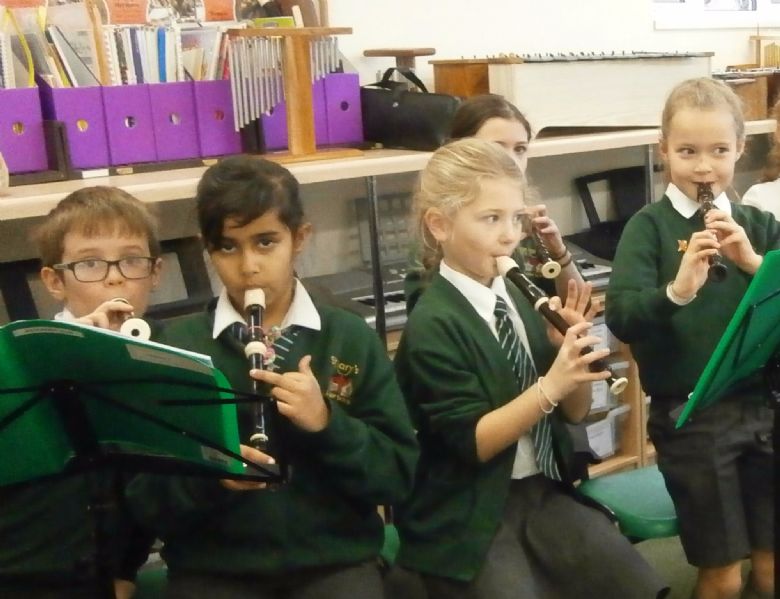 In the Summer Term, we take part in ABRSM Music Medals. Click here to find out more.
Recorder Club Music
We are trying not to use so much paper as we are mindful of the planet so maybe you could download the PDF and read it from a computer or tablet. A good apple app for this is forScore and for android, try mobilesheets. If you would like a paper copy of your part, please ask Mrs Malone or one of the year 6 prefects.