Year 5 - 20.3 - 20.5.20
Hello all!
Thank you for your support and kindness over the closure - difficult times for everyone...but also some opportunities that we all wouldn't otherwise have. Please check on this page periodically where we will post more as time goes by - a variety of opportunities for home learning that you may wish to undertake.
Do email your child's class teacher with any successes of your time away from school doing learning, we'd love to hear how your children are getting on.
For now, keep safe, keep well and we are looking forward to seeing you all again eventually...The Year 5 team
---
Music activities to do at home - click here Times table challenge to try at home- click here
---
15.5.20 - Perseus - the legend
Southampton Art Gallery have been busy creating ideas to interact with them from home. One is a video about Perseus (the Perseus Story by Sir Edward Burne-Jones) - a 26 minute video exploring all their pictures that show the story of Perseus. If you are unsure about what artists do and create in their pictures this could be a good place to start.
https://www.youtube.com/watch?v=FWY0OSOIh7Y or here for a text based version: https://www.southamptoncityartgallery.com/whats-on/perseus-series/
or click here for more from the gallery https://www.southamptoncityartgallery.com/resources/
---
15.5.20 - Ancient Olympics - the new home learning packs from 18.5.20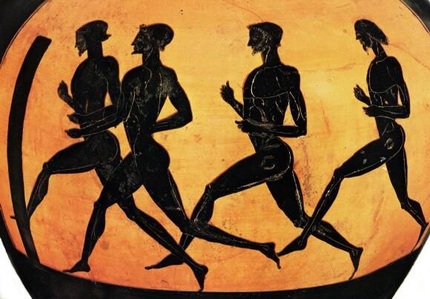 How do we know what the Ancient Greek life was really like? Have you ever asked yourselves that question? Well, the primary source evidence (stuff from their time in history) that we have is largely pottery from their day that has been pieced together and it shows us much (sometimes rather too revealing).

There are more details here if you are interested or have a budding historian at home alongside you:http://www.teachinghistory100.org/browse/curriculum/7/ plus we have attached some details from the British Museum that will tell you more, separate to the usual packs but for the really inspired / motivated, you might be interested. It is called "Visit_Greece_Pots_British_Museum" and is a pdf at the bottom of this page.
The main packs are now all on a portrait setting and are called;
"Y5 18.5.20 ALL" and "Y5 18.5.20 EASIER" as well as the answers ("Y5 18.5.20 ANSWERS ALL" & "Y5 18.5.20 ANSWERS easier" and are now below. There are some more craft related learning opportunities towards the end of the week as well, do send in pictures of what you have been able to create.
Best wishes and we hope you get as much learning joy from these packs as we have had preparing them.
PS For half-term week there will be no formal learning pack but we will have some suggestions of what you might enjoy doing over half-term that we will add to this page next week by Friday.
---
7.5.20 - Ancient Greek gods and goddesses - the new home learning packs from 11.5.20
Attached at the bottom are the new home learning packs called "Y5 11.5.20 ALL" and "Y5 11.5.20 EASIER" as well as answer sheets for each.
A thought for you all from my experience from teaching children in school for quite a number of years;
Each half-term is a bit like a walk up a big hill, at first it is new and exciting but as the walk goes on fatigue sets in and a sense of monotony and we can't see the top, it is out of sight now we are closing in on it.
Weeks 3 and 4 of a 6 week half-term are those weeks because one forgets what the start was like and the excitement and joy one had when setting off - perhaps the adventure isn't living up to what one thought it might be like. One can't quite see the top yet!
Weeks 5 & 6 are easier because one can see the end in sight...the energy levels pick up.

In school I look for the things I am most grateful for at these times (when I remember to) and suddenly one is nearer the end than one was.
We hope the pack helps with all your efforts on this journey we are on.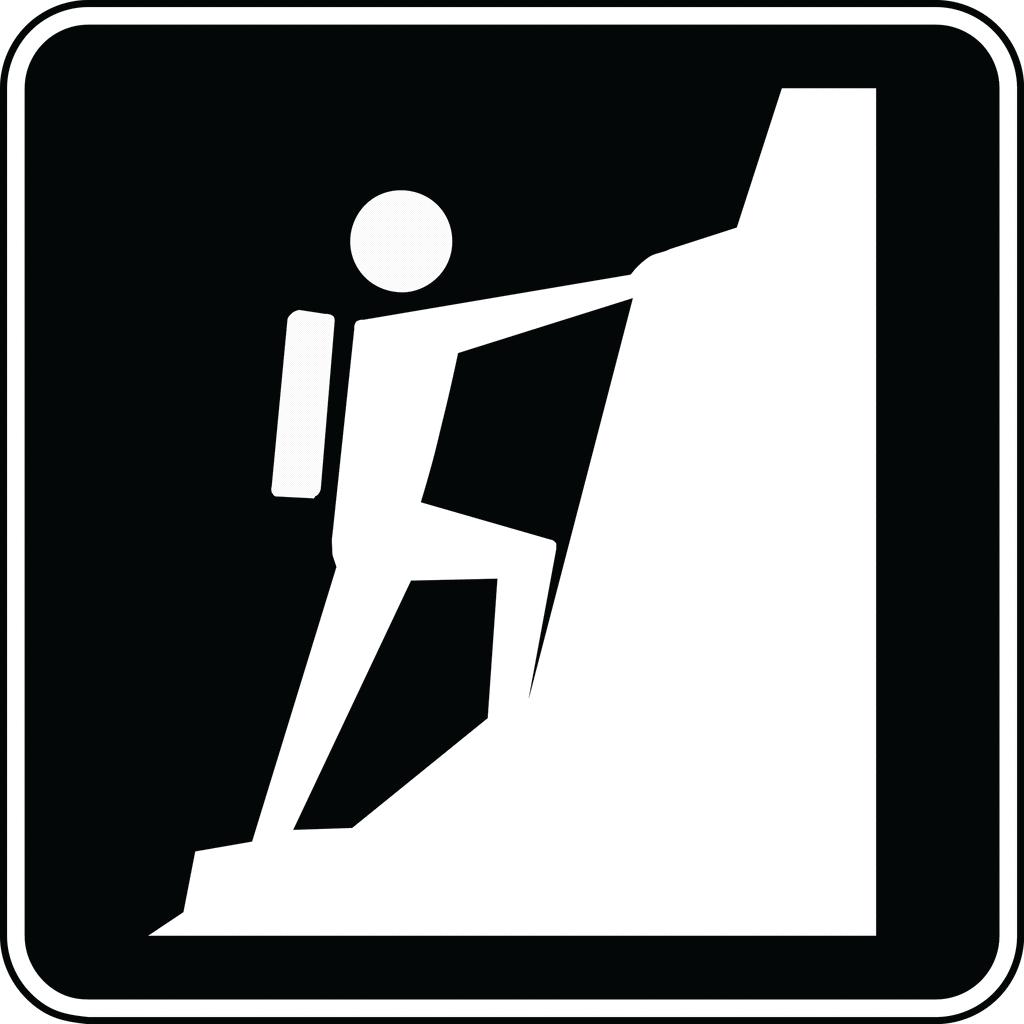 ---
4.5.20 - Miss Sherlock writes...
"Hi everyone! As we begin the month of May, I would like to point you in the direction of our Happiness Calendar for this month - Meaningful May. This resource shares some great ideas for refocusing our minds on what really matters and gives us ways to engage with ourselves, others and the world around us!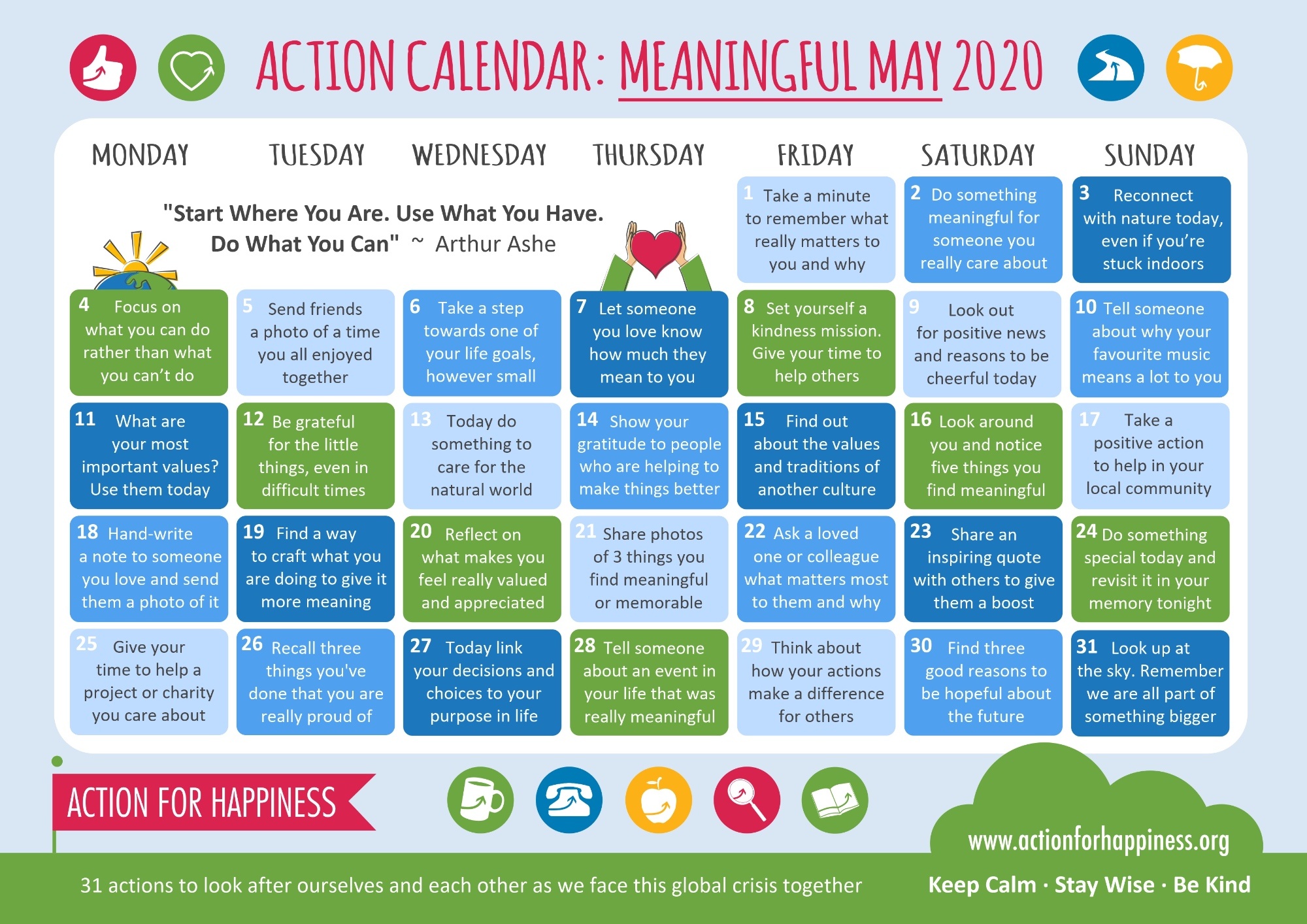 Attached below. Enjoy!"
---
4.5.20 - Read to by youtube (!) & Reading BINGO ( think checklist)
Some of you will love having more time to read at present, some will loathe it. So, here are 2 ideas for you.
1) Puffin books has a youtube page they are uploading stories to each day. https://www.youtube.com/user/puffinbooks1 and there are some book illustrators too with a how to...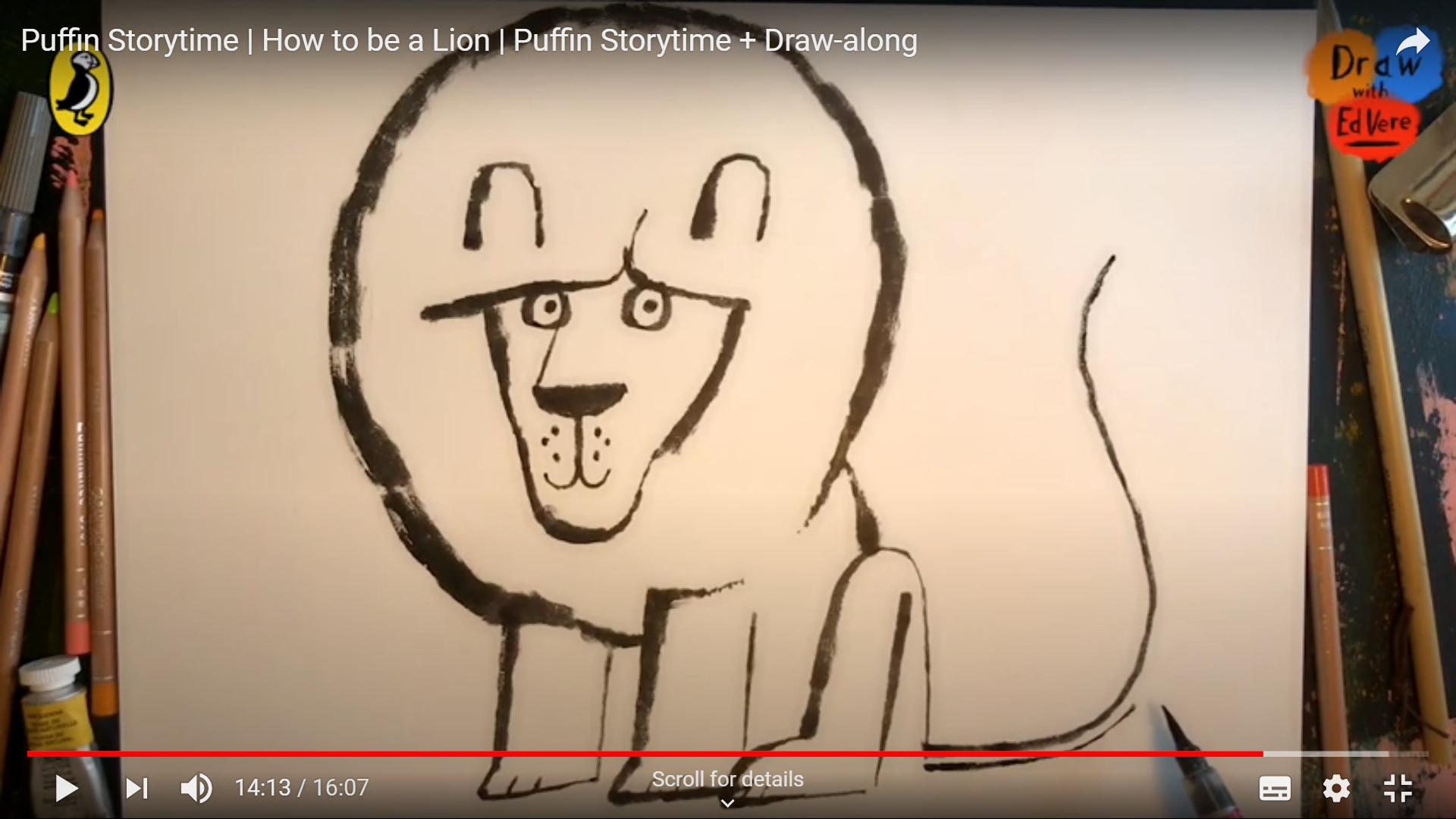 2) At the bottom of the page is a useful document that you could use as a checklist /Bingo card.
Taken from here: https://primaryplayground.net/free-printable-reading-bingo/ (Colourful and advert laden website - read the page carefully or simply download from below!).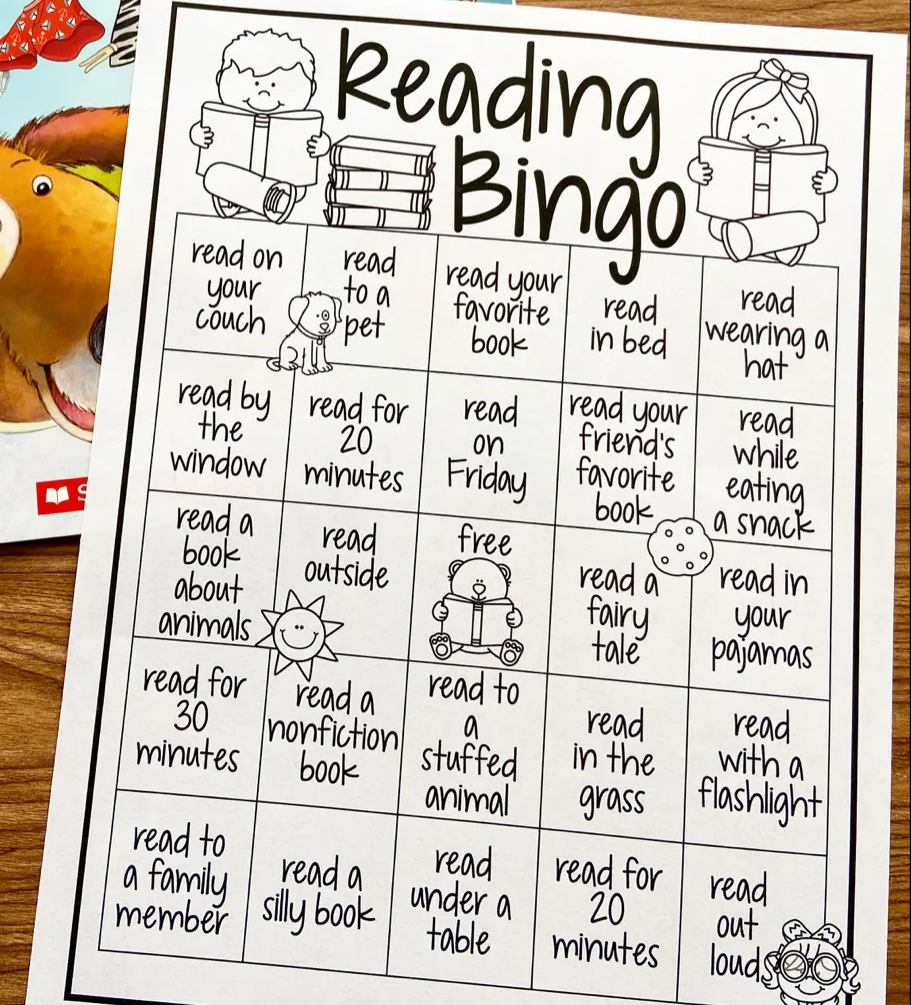 ---
---
4.5.20 - Spellings anyone?
Rather wonderful ideas if you decide this is a good time to do more - https://www.teachstarter.com/au/blog/10-fun-spelling-activity-ideas-use-classroom/
---
4.5.20 - Colouring anyone?
I've (Mr Rundle) had the following colouring in sent to me - you might enjoy it too - the download is at the bottom of this page called "HAPPY_AT_HOME_colouring_in2". The website is rather fun too, probably more for parents than children though - http://www.scriberia.co.uk/journal/happy-at-home-colour
---
1.5.20 - To do...some suggestions
Join in with some of the household chores - vacuum your bedroom and one other room once a week, dust, wash up the dishes daily, make your bed daily
Create a assault course in your bedroom or garden
Make a Mud pie (use a trowel to part fill a bucket for similar, add water, , use a stick to stir, make mud pie)
Create a stick person using string and anything else you can find lying around
Make a crown out of leaves and twigs
Do some bark rubbings while out on the daily exercise
Make a minature garden (fill a tray or pot with soil, then build away)
---
1.5.20 - Home Learning Packs for Monday 4.5.20 - 8.5.20
The History this week takes you on a journey from an introduction to VE day and then goes back to look at 3 other areas before returning to VE day on Friday; World War 2 Overview, Play & Danger in the days of WW2, Food (Potatoes) at the time of WW2, VE day itself. To really understand the joy of VE day, one needs to know what came before so we've included some of that at a year 5 level. As well as the history we have also included each day some maths, reading and writing but it might be disguised within the History! Packs at the bottom of this page to download and print.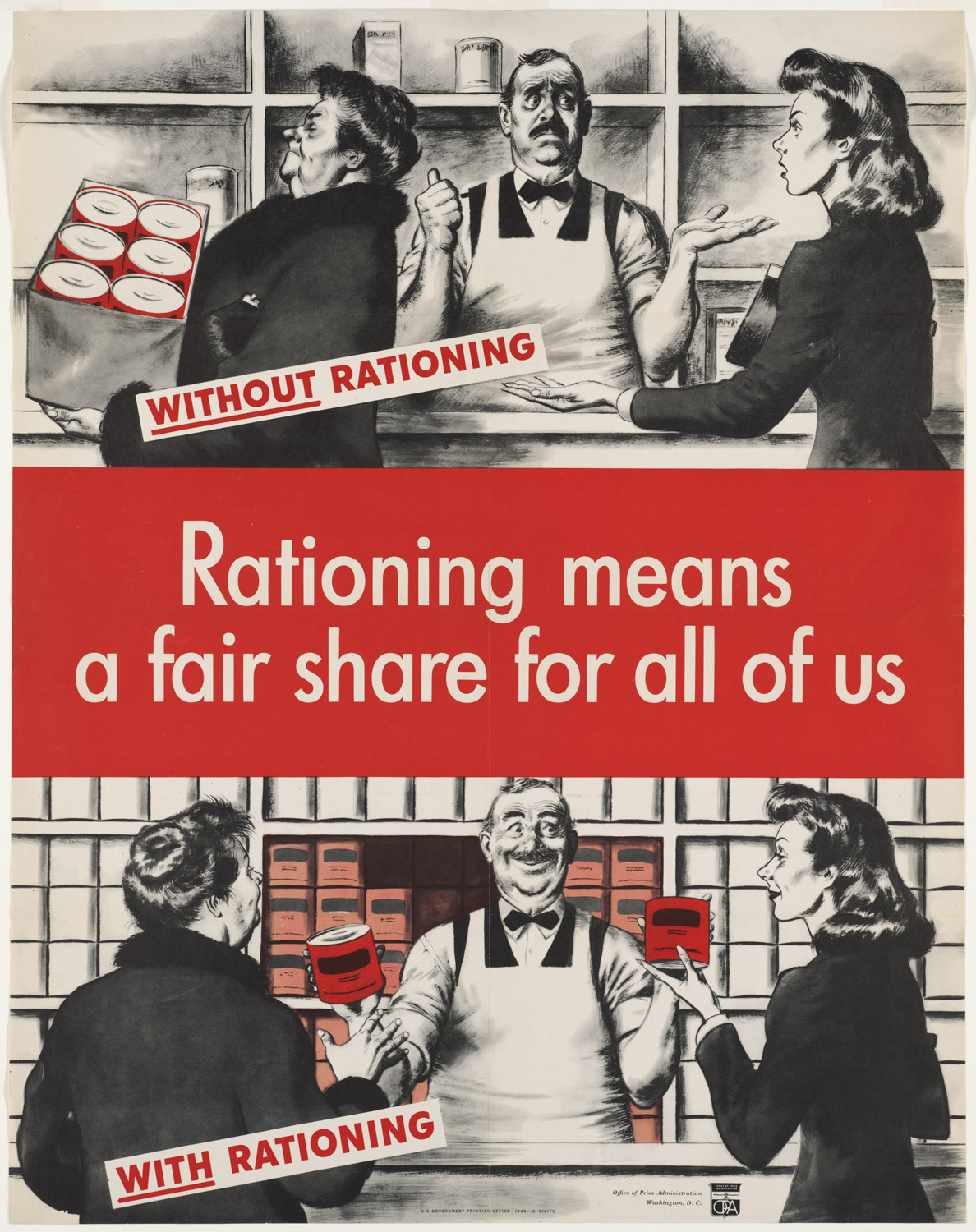 ---
30.4.20 - Libraries connected...
In the downloads / attachments at the bottom of this page is a sheet called "Reading at home - from the libraries - useful page with various clickable links" and it has been put together by Libraries connected providing lots of different helps for reading (e-books, audiobooks, reading groups videos and podcasts). Worth a look.
---
29.4.20 - Video call with a difference and an agreed focus
Here is a challenge for you all to do, perhaps with friends or family you haven't seen for a while...
Send an email out to your friends / family with the following Photo challenge (see below). Then have a date that you will share your photos / poems etc with each other. One person collates the entries ahead of a meeting together on Zoom (or whatever video conferencing you want to use) and you can share what you've done. Here are some suggested photo challenges to do together:
- best example of your season (Spring)
- the tallest tower of panic buying shame - how many loo rolls do you have?
- Weirdest animal/bird antics - I'm hearing bird song right in the middle of Wellington city - unheard of. What else is different in the animal kingdom?
- Nature's best example of social distancing
- best home cooked dinner
- show us the a skill you've developed during lockdown
- share the most inspiring quote or bible passage that's helped through lockdown
- Most spectacular tower built using recycling
- From your kitchen cupboards/fridge/freezer what item do you have the most/least of?
- best haiku poem (Haiku poems consist of 3 lines. The first and last lines of -a Haiku have 5 syllables and the middle line has 7 syllables) describing your experience of Lockdown.
---
24.4.20 - Learning pack for week commencing 27.4.20 - The Ancient Greeks - Something Easier
We've also added another pack down below which is slightly easier for the reading, writing and maths - but just as fun! They are called "Y5 27.4.20 Instructions & (Easier) Pack" and "Y5 27.4.20 Easier Answers".
24.4.20 - Learning pack for week commencing 27.4.20 - The Ancient Greeks
We hope the learning pack we made for this week has been useful and helped with your learning and making some sense of all the time we have at home. The pack of suggested learning for next week is now available called "Y5 27.4.20 Instructions and Pack". From page 5 - 29 you might like to print it "2 per page".
Remember, it is only a suggestion of what your child might spend their time doing / learning. Answers provided too called "Y5 27.4.20 ANSWERS". The Education City online learning will go live from Sunday for 2 weeks & is saved in "Classwork". Let us know if you have problems finding it.
---
23.04.20 - Diocesan Challenges
Miss Sherlock writes, "You may have noticed on the main page for this section of the website ('Parents - How to Help your Child') that some new diocesan challenges have appeared for you to download. These are resources that have been sent to us from Winchester and Portsmouth Diocese and they include some lovely ideas for activities to try at home, linking to our RE learning. These resources might be nice activities to do in the afternoons or when you have finished your other school work. "
---
23.4.20 - Blast off into space
I came across this from the Guardian and thought some of you might well enjoy it - the rest of this post is from the Guardian. (https://www.theguardian.com/travel/2020/apr/20/10-fun-ways-to-home-school-virtual-learning):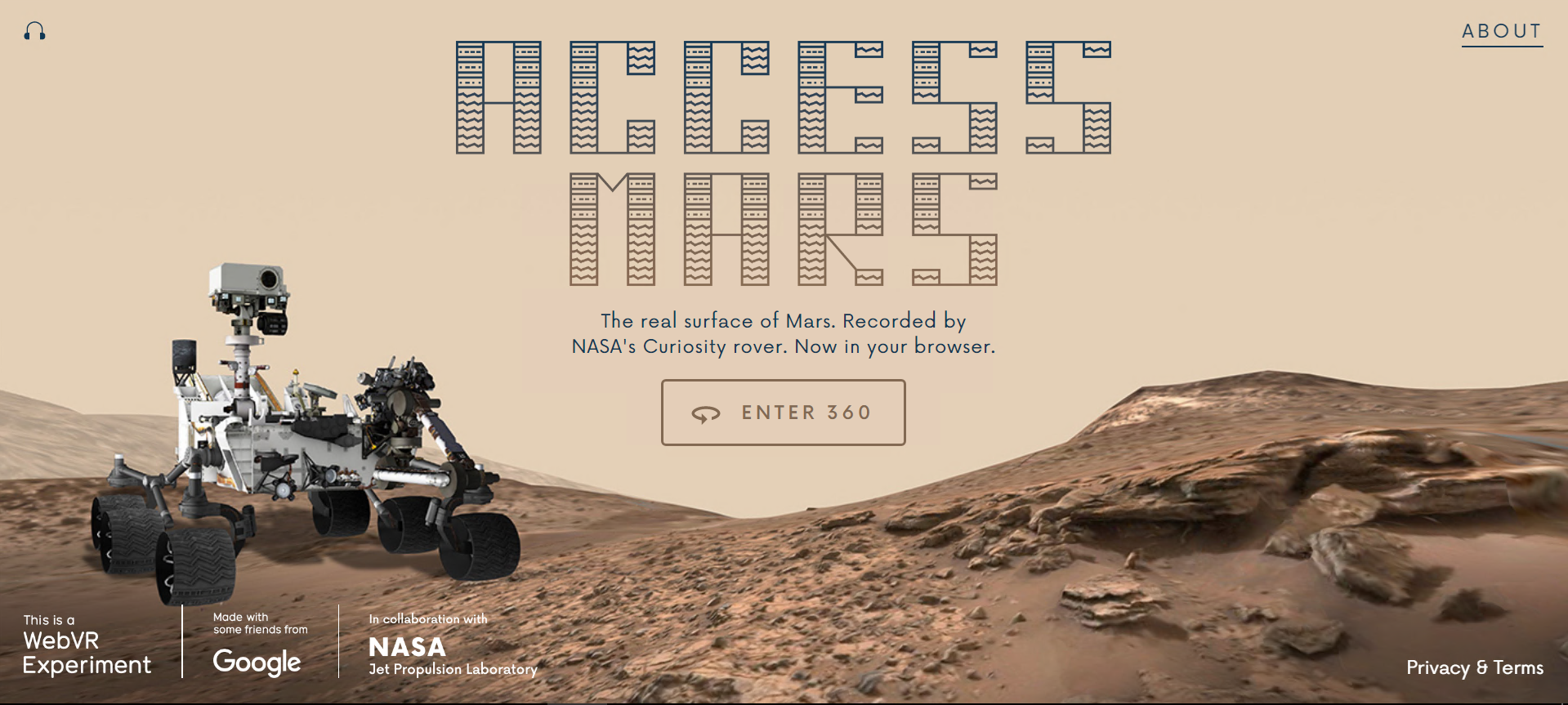 "The sky's not the limit when it comes to virtual travels. In 2011, Curiosity Rover travelled for eight months and 352m miles to land on the surface of Mars. Via its Access Mars project, Google and Nasa have shared some of the data and images, collating them in a 3D replica of the Martian surface. Some may be disappointed to find no aliens, but the interactive webpage with facts straight from the scientists offers an engaging slice of space exploration. For the perfect ending to a space-themed day, beam up into the International Space Station for a series of stories read from space." from https://www.theguardian.com/travel/2020/apr/20/10-fun-ways-to-home-school-virtual-learning
https://accessmars.withgoogle.com/ and https://storytimefromspace.com/library/ are the links to the two websites mentioned.
---
22.4.20 - Photo Challenge Fun...
Make photo scenes of your favourite films or shows or musicals, here are 6 examples and the answers to give you the idea.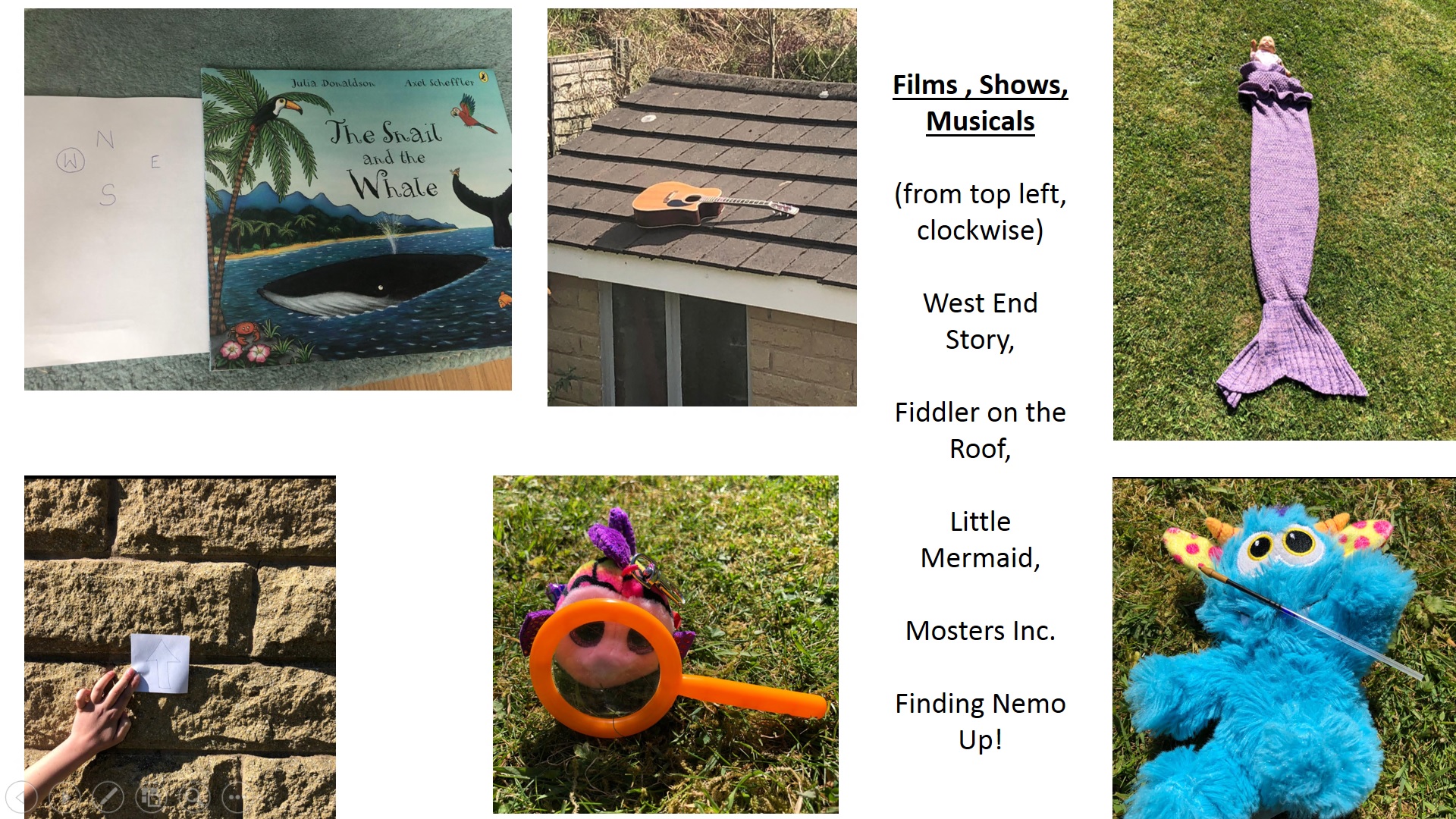 Once you have taken your pictures, send them to a friend of family member and see if they can guess the names of the show, film or musical. Have fun!
---
21.4.20 - Meteor Shower that you can see
The Guardian Newspaper writes (https://www.theguardian.com/science/2020/apr/19/starwatch-lyrid-meteor-shower-will-put-on-a-stellar-show):
"The Lyrids are an active meteor shower from 16 to 25 April, but the peak this week could happen in the early hours of 22 April or later that night as 22 becomes 23 April. They are called Lyrids because they emanate from a point in the constellation Lyra, the lyre." With the learning pack this week having an astronomy theme you might enjoy taking a look...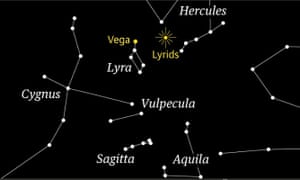 ---
21.4.20 - BBC 3 a day
As well as your child's class teacher having prepared some learning that you might like to do at home (packs added weekly at the bottom of this page), the BBC have also put together 3 lessons a day for children. https://www.bbc.co.uk/bitesize/tags/zhgppg8/year-5-lessons/1 is the link for year 5.
Remember - use what works for your and your family, while keeping learning skills ticking over is beneficial, having a running battle through the day with your child about their learning is not good for either party!
We will continue to add a variety of learning opportunities here as well and will put a pack of learning for each week.
---
20.4.20 - Planetary Knowledge & Top Trumps
From the Education City pack today (Monday) you will know lots more about the seven planets - can you create a mnemonic or any other method for remembering the order of the planets?
THEN research information about the planets (or use what you found out already) and create your own top trumps cards. Think about what information you could include that will give a number, such as size (diameter), distance from the sun, amount of time to orbit (travel one loop around) the sun, number of moons. You could make cards for each planet and then play alongside your family.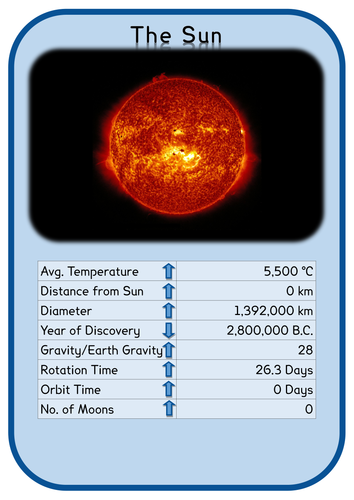 ---
20.4.20 - Feedback
Do please send us a brief email with some feedback on how you have found the first few days of the new term. Below (19.4.20) are the details of the pack in case you missed it. Your input will help shape next week, although one size we know does not fit all nor does one piece of feedback shape all!
Also do send in any learning you or your child are really pleased with. We will add these to the gallery here if you want to see.
---
19.4.20 - Summer Term begins...
This is the most unusual start ever to a Summer term. We had planned two weeks of Science / Astronomy related learning and have done our best to include some of that Science into the downloadable pack at the bottom of this page (called "Y5 20.4.20 Full Pack"). It also includes a variety of fiction and non-fiction reading, a short writing activity each day and some maths for each day too.
Before printing, you might like to set your printer to 2 pages per sheet and double siding - there are 50 sheets and in doing this you'd only end up printing on 13 pieces of paper! Also - the first 3 pages are instructions that you can read onscreen. From page 40 onwards are more open tasks that, again, you might prefer to view on screen.
However your week goes we wish you all the very best.
The year 5 team
FURTHER DETAILS:
How can we help you and your child learn and it be engaging but also manageable?
Using the Education city website, we think that your child will be able to have a little practice at a skill or new idea (10 minutes), then be able to use the activity sheets (around 10 minutes per subject). Remember - ADAPT THIS TO FIT INTO YOUR CIRCUMSTANCES & some of you may find the year 4 pack more appropriate for your child as the challenge will be slightly less (or even the Ed City bits in the Y3 pacK - click the tabs for each year group to find them).
HELP! My child has not got a log on - All year 5 children got a home user pass before we had to close school – email us if your child can't find it and we can send it out.
In addition to this, each week we have also included some other learning opportunities that some of your children may want to do. Whatever is happening for you while you are away, do email us and let us know how things are going, we'd really appreciate some feedback if you get the chance.
AND REMEMBER AS WE SAID IN OUR UPDATE (26.3.20) "WHILST CONTINUING WITH LEARNING IS IMPORTANT, WE WOULD ASK THAT YOU DO NOT PUT YOURSELF UNDER UNDUE PRESSURE."
We have also included a list of activities to do each day that might be a useful way of helping motivate those who are hard to motivate after the 2 week Easter Holidays.
---
18.4.20 - Post "Lockdown" daydream jar
Each time you wish for something or daydream about the things you are missing in particular at present, make a note of it and post it into your "Daydream Jar" as a wish list for the future!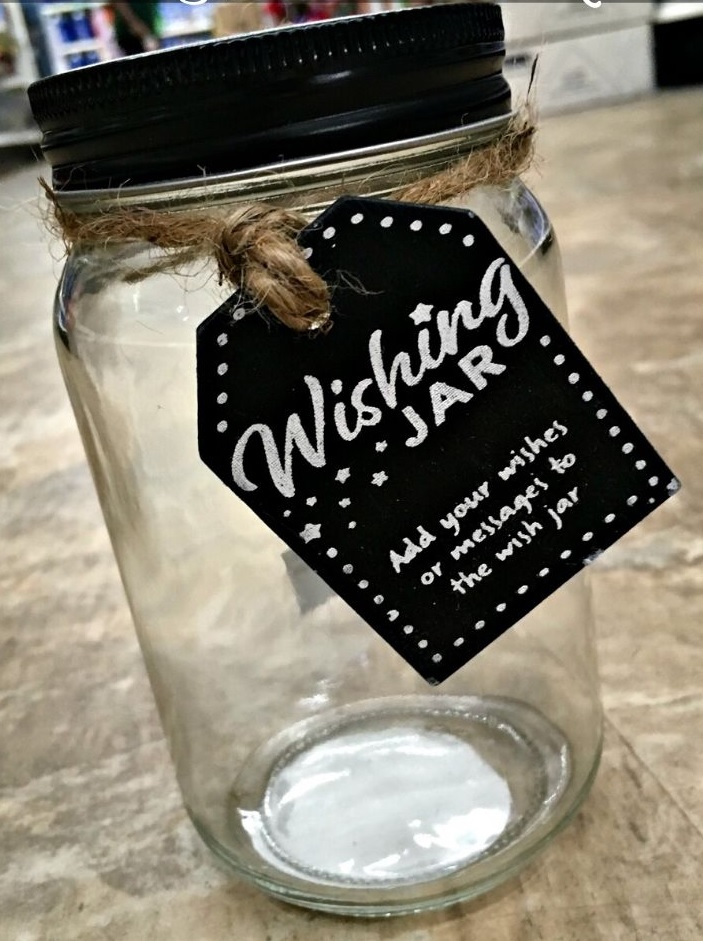 ---
17.4.20 - Lockdown Memory Box
Create a "Lockdown" memory box (time capsule) for your family to open in 20 or more years time.
Take a box (wooden or cardboard) and decorate the outside (writing name on it, painting, glitter etc.). Pick things to put in the box to remind you of this "lockdown" time like pictures, write some memories & things you are missing. You might like to include food packaging, any letters from friends at this time and any leaflets you have received about the Coronavirus lockdown. Also think about the things you would like to do when things get back to "normal".
Here are some questions to stimulate your own ideas too:
What would you put in to remind you of the time that we are currently living in?
Could you write a poem or a song about what you are all doing?
Could you write a diary of a typical day in isolation that you could include?
Could you put in any craft or art work that you have done whilst isolating as a reminder?
When you are ready, seal and label the box with instructions for when you want your family to open it. Keep it in a safe place
---
15.4.20 - Have a screen free day!
This might take some serious self-discipline & a little planning, how will you all get on? What might happen? Will you take up the challenge?
---
14.4.20 - Create a mini gallery
I saw this in the newspaper and thought you might enjoy it and perhaps have a go yourself, either for your own pets, if you have any, or perhaps for any small toys you play with - Enchantamals, Lego figures, Sylvanian families, Barbie & Ken and the like. Remember, your works of art for your gallery do not need to be very big!
---
13.4.20 - Bank Holiday Den making / create a Book Nook
Make your own book nook. Will it be inside or outside? There are lots of ideas online.
---
11 & 12.4.20 - Egg Hunt
Egg Hunt Draw and colour in your own eggs for the family to hunt – use cardboard from the recycling bin and colour in. You could award points for different colours – make some really tricky to find!
---
10.4.20 - Learn a language - Joyeuses Pâques! Felices Pascuas! Buona Pasqua!
Become worldwide citizens – can you learn to count to ten in a new language? The "Rosetta Stone" website is apparently offering free access for children for 3 months – worth a look surely? The front page offers 3 days for free…
---
9.4.20 - Rainbow Challenge: Either inside or in the garden, race your family to find something to match the colours of the rainbow. Could you create a rainbow collage of garden finds? What other unusual things could you create outside
---
8.4.20 - Some indoor suggestions
Design your own board game Use a piece of paper, card or the back of a cereal box to design your own game from scratch or your own version of a well-loved game.
Bored / Board Game challenge: Play every single board game you have in the house – keep a tally of who wins to find the overall champion.
---
7.4.20 - Bug hunt...what or who can you find around the garden? What could you create?
Spring is the time when lots of garden bugs reappear - what can you find? These two websites have helpers on identifying bugs and insects - http://www.britishbugs.org.uk/ for bugs or https://www.woodlandtrust.org.uk/blog/2017/11/common-uk-insect-identification/ for a wider range of insects. For those of you who love to learn facts and the precise names for things, the first website is amazing for identifying and naming the body parts of any bug. The second has some amazing images.
Then, can you make a bug of your own out of junk? Google it or look on Pinterest for ideas!
---
6.4.20 - Cooking and creating
Cooking Click here for a recipe for Welsh cakes (belated St David's day!) - https://www.bbcgoodfood.com/recipes/welsh-cakes

3.4.20 - Easter Egg hunt with a twist
Choose 10 different objects from your garden/house and ask a parent to go and hide them in the garden (or around your home), whilst you (and any siblings) turn away so you can't see.
Decide on a 'starting point'.
Ready, steady, GO………you (and siblings) hop around the garden like a bunny until you find an object.
Once an object is found run back to the starting point, move the object around the body shouting "I love Easter, I love Easter 5 times" or something similar.
Pop the object down and then off you hop to find another.
Can you think of other spring animals? See if you can move around the garden like them as you continue your search
---
2.4.20 - Shadow drawing
How cool is this? What have you got in your house that you could draw the shadow of?
---
31.3.20 - DT at home?
https://ashandcompany.co.uk/ do workshops with a DT / woodwork theme, Brownie packs and the like have visited them. They are closed at present, like everywhere, but have come up with some useful craft packs that are mailorder and might be of interest to you. More details here:
https://www.facebook.com/ashandcompanyUK/videos/891292017960838/
---
26.3.20 - Initial Easter ideas / something for the afternoon
Write acrostic poems about Easter or Spring time
Example:
Sunny March days
Practising my timestables on "Hit the Button"
Really getting good at working from home
I miss my friends
Not going to complain
Going to help Mum bake a cake
Then decorate / colour it in and photograph it and email it in and we can add it to the photogallery

Applying for a Blue Peter badge (some children do not know what Blue Peter is, but the discounts the badge get are worth having!). Details here:
https://www.bbc.co.uk/cbbc/joinin/about-blue-peter-badges?collection=blue-peter-badges

Using chalk / water outside to practice spellings or maths

Write a letter to an elderly relative to wish them a Happy Easter / tell them what you have been doing

Easter Egg hunt with a difference - hide objects / eggs whatever around the garden / house. Draw a map and show where you have hidden the objects. Can other people read your map to find them?

Walk around your local village to spot signs of spring / things that show new life in your one chance to exercise a day

Attached below is an Easter Basket template to make
---
26.3.20 - I see Maths
We use some resources in school from a company called "I see Maths". Their website has daily challenges and some useful videos:
http://www.iseemaths.com/home-lessons/
Take a look and see what you think.
---
23.3.20 - Write an autobiography
What has occured in your life? Have you ever wondered about recording your stand out moments through a series of short paragraphs about each part of your life. Maybe your remember making fruit kebabs at the end of year 2 as part of your time running up to leaving, or a particular holiday stands out in your mind? Well, write a little about it. Have a catchy title for the part of your life you are going to write about e.g. "The great sweet robbery" and then describe it in a way that will help someone who wasn't there be able to picture it and understand what took place.
---
23.3.20 - Oliver Jeffers - "Stay at home story time" & Mo Willems "lunchtime doodle"
This might be of interest to some of the year 5 children, it is quite amusing and these books are full of wit, take a look and decide for yourself:
https://www.oliverjeffers.com/abookaday/
Mo Willems, whose books you may have enjoyed when your children were younger, has also got an online daily "Lunch Doodles with Mo" video. Your child may have outgrown the stories but they can learn some great little drawing skills nonetheless:
https://www.youtube.com/playlist?list=PL14hRqd0PELGbKihHuTqx_pbvCLqGbOkF
---
23.3.20 - Packs attached
Today we've attached the packs of learning that we have sent paper copies home of, see below - "Y5 Maths home learning", "Y5 General pack inc ALL answers", "Y5 General pack (less challenging) inc answers", "Y5 Maths home learning (less challenging)"
---
20.3.20 - Introduction
Your child will have taken home/ you collected / had delivered 2 packs of "at home" learning. This was largely maths based because of the variety and ease with which we could prepare this resource for your child. A scan of each of these 2 packs (both versions) this will appear below in the week beginning 23.3.20. For now the instruction sheet is below as an attachment.
Do email your child's class teacher with any successes of your time away from school doing learning, we'd love to hear how your children are getting on.
---
20.3.20 Something to wrap your ears around
We have recently enjoyed listening to chapter 3 from "The Wind in the Willows" by Kenneth Grahame.
The link to where we have heard it is here:
https://www.bbc.co.uk/teach/school-radio/english-ks2-the-wind-in-the-willows-index/znngf4j
---
20.3.20 - ART update - Rob Biddulph, an artist and illustrator has come up with a picture a day that you might like to follow on and build up some excellent art and learn some new techniques while not at school. Link here: http://www.robbiddulph.com/draw-with-rob
Here is the blurb from his website:
#DRAWWITHROB
During the coronavirus quarantine period in Spring/Summer 2020, I realised that lots of people were going to find themselves at home with their children for several weeks/months looking for things to do. So I decided to post some draw-along videos that parents could watch with their kids and, hopefully, make some nice pictures. Here they are. Feel free to draw along and send me the results using the hashtag #DrawWithRob. I am @RobBiddulph on Twitter and @rbiddulph on Instagram. Good luck…